Jag XF interior!
5/15/07, 05:54 PM
Tasca Super Boss 429 Member
Join Date: February 1, 2004
Posts: 3,751
Likes: 0
Received 0 Likes on 0 Posts
Jag XF interior!
---
http://www.leftlanenews.com/producti...-xf-spied.html
Toned down pretty heavily from the concept: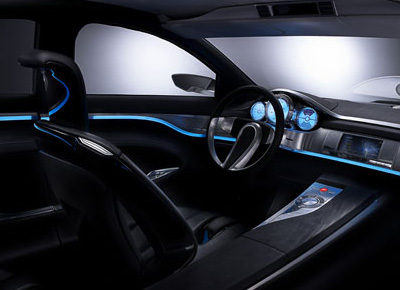 But overall very tasteful modern looking.
5/15/07, 07:34 PM
I'm just not convinced that the XF is going to accomplish what Jag needs for it to. My fear is that we'll see much the same cycle we saw with the outgoing S Type....people will be in awe of the strikingly different extrerior short term, but long term this just doesn't seem like a good match for what BMW and Mercedes have waiting in the wings.

I think Ford needs to slightly restyle and decontent this car, drop in a more mainstream engine lineup, lower the price and call this the Rover it is better suited to be anyway. This would provide Jaguar with the corporate little brother it needs to amortize costs without diluting the Britishness of the badge and it would capitalize on the equity of the Rover brand, which has a more loyal following than many might think.

Spin the existing very good but oddly placed and executed X Type into two or three different Rover models to slot in below the rebadged XF and you'd have a complete Rover lineup that should easily be good for more units per year than they are/would be as Jaguars whike making the most of what they've already got.

Then they could get on to the business of actually fixing Jaguar.
5/15/07, 08:20 PM
Needs to be more Astony
Join Date: October 4, 2004
Location: Volo, IL
Posts: 8,578
Likes: 0
5/15/07, 09:50 PM
FR500 Member
Join Date: August 15, 2005
Location: Honolulu
Posts: 3,011
Likes: 0
Received 0 Likes on 0 Posts
As long as Jaguar keeps a "futuristic" i(diot)-drive feature out of the car. Diverting attention from the road while inputting Kommands for even minor adjustments was something best left in the reject pile of bad ideas.
Thread
Thread Starter
Forum
Replies
Last Post
'10-14 Interior and Audio